Exeter Draw Hull City in League Cup
After successfully over-coming Brentford 1-9 after extra-time on Tuesday, Exeter were in the draw for the second round of the EFL Cup. Exeter drew the Premier side Hull City and it's likely that the game will be played on Tuesday 22 August, unless it is televised.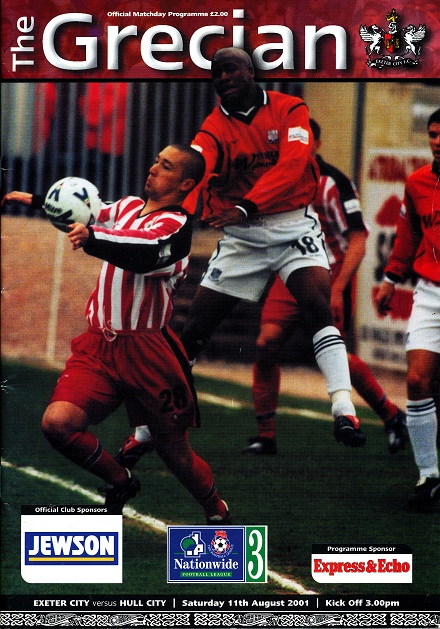 We haven't played Hull City since the 2002/03 season, when our paths went in very different directions. Exeter were relegated to the Conference and Hull made their way to the top flight, made it to a FA Cup final, and have bounced back this season to the English Premier League.
We've played each other 12 times in recent history. You can check those games out here.
Ticket news should be available soon.
The full draw is as follows:-
Queens Park Rangers v Rochdale
Scunthorpe United v Cardiff City/Bristol City*
Watford v Gillingham
Peterborough United v Swansea City
Everton v Yeovil Town
Millwall v Nottingham Forest
Sunderland v Shrewsbury Town
Luton Town v Leeds United
Chelsea v Bristol Rovers/Bristol City*
Burton Albion v Liverpool
Blackburn Rovers v Crewe Alexandra
Accrington Stanley v Burnley
Crystal Palace v Blackpool
Morecambe v AFC Bournemouth
Preston North End v Oldham Athletic
Oxford United v Brighton & Hove Albion
Reading v Milton Keynes Dons
Fulham v Middlesbrough
Newcastle United v Cheltenham Town
Exeter City v Hull City
Derby County v Carlisle United
Northampton Town v West Bromwich Albion
Wolverhampton Wanderers v Cambridge United
Stevenage v Stoke City
Norwich City v Coventry City
*The EFL Cup Round Two draw was made with 25 seeded teams being drawn against 25 unseeded teams. Seeds were based on last season's final table standings. With one fixture to be played on Thursday night, Cardiff City will be a seeded team should they progress and Bristol Rovers a non-seeded team should they progress.
Having finished in 18th position last season, Bristol City's status as a seeded or unseeded team is dependent upon which of Cardiff City or Bristol Rovers progress, and so consequently they have been drawn in two possible ties until tomorrow's fixture is completed.