Tisdale's 500: What Goes Up …
City's success in the 2010/11 season came at something of a price, as suddenly a number of players became hot property. Paul Tisdale already had to contend with the loss of Ryan Harley (Swansea) and Paul Jones (Peterborough), while the
summer saw the departure of Matt Taylor (Charlton) and top scorer Jamie Cureton (Leyton Orient), while Rob Edwards had brought the curtain down on his fine playing career. The first three on that list, hangovers from the Conference days, will have been comparatively cheap on the wage bill and replacing them like for like would prove incredibly difficult. Players brought in tended to be of the cast off nature, such as Lenny Pidgeley and Danny Coles, the talented but injury-prone Spaniard Guillem Bauza, or a multitude of loanees such as Nicholas Bignall, Matt Whichelow and Jake Taylor, who has recently returned to the club on a permanent deal. The 1931 player was Callum McNish, late of Southampton, while the side appeared to have a youthful edge to it with players like Scot Bennett, Chris Shephard and Tom Nichols expected to feature heavily.
With the experienced backbone of the side gone, with hindsight it's probably no surprise that City struggled, winning just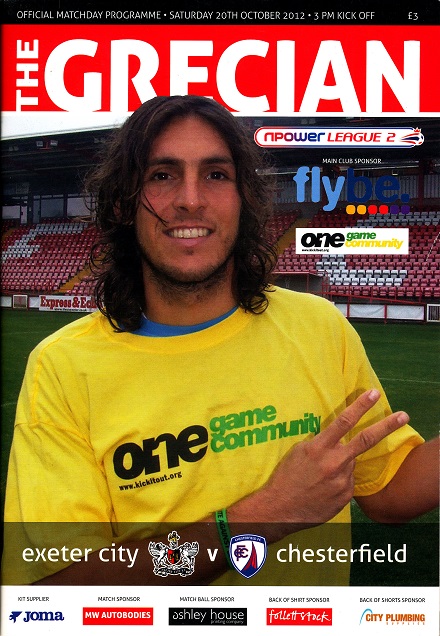 one game (against Chesterfield, with Tom Nichols scoring his first City goal the day before he turned 18) by the end of September. More stark was City's complete inability away from home, failing to register a goal in their first six away matches. This sparked action from the fans in answering a call for a "siege mentality" by forming the "Siege Army", the forerunner of today's "Red Legion", and seemed to bear fruit immediately as City finally registered a goal, and a win, in a 2-1 victory at Walsall. Then came a run of five straight draws (two in the FA Cup) including a memorable 4-4 draw at Sheffield United. A 3-0 win over Tranmere which was noticeable by Tisdale's use of a 4-4-2 with out and out wingers (a real rarity!) proved a false dawn as City won just one of their next ten before Sheffield Wednesday, hammered 5-1 the previous season, were dispatched again, 2-1 thanks to a pair of free kicks from Billy Jones and David Noble. City, despite a succession of signings and loanees, couldn't pull away from the danger zone despite the form of ex-Argyle forward Alan Gow, and their relegation was all but confirmed when, after leading 2-0 at Rochdale with 11 minutes left on the clock, City somehow contrived to lose 3-2. A 4-2 win over Walsall merely extended the agony and relegation was confirmed with a 4-1 hammering at Carlisle. A creditable 2-2 draw on the final day with big boys Sheffield United was overshadowed by a heart attack suffered by City's Director of Football, Steve Perryman.
Back in League Two, there was a bit of an exodus as one might expect from a relegated side as a mixture of ambition and cost-cutting hit – gone were Dunne, Archibald-Henville, Duffy and Nardiello, although back for his third spell (after a loan spell at the end of the previous season) was Jamie Cureton, while City were also able to sign the likes of Arron Davies, Kevin
Amankwaah and Tom Doherty.
After an encouraging defeat to Crystal Palace in the League Cup, if City were expecting an easy life back in League Two they were brought down to Earth with a bump thanks to a 3-0 home humiliation by Morecambe on the opening day. This would prove a bit of a blip, however, as City then won five and drew one of their next six league games, Cureton notching six goals in that time. Then came the obligatory slump, with five defeats out of six – the only win being a 2-1 win at Barnet thanks to one of the finest team goals you're likely to see – and then a decent run saw City firmly embedded in the promotion chase. One thing that was noticeable, and has been something of a pattern in recent years, was City's away form outshining performances and results at home. In December and January, City's home form was P5 W1 D2 L2, while City's away form in that time was P4 W3 D1 L0. Overall City would win 11 games away from home – a club record, but would lose 10 home games, a statistic that may show why City failed in the end to reach the playoffs.
That said, after a 4-1 thrashing of League Cup finalists (and eventual playoff winners) Bradford in March, City were sitting pretty and the only debate was surely whether City would go up automatically or enter the playoffs. That City finished 10th was the result of a solitary point from their last seven matches (and that Bradford win their only one in their last 11), a poor end to a season that had promised much, and would effectively lay the foundations for a period of struggle.