Premiership Team to Visit Park in Pre-season Friendly
The Club have announced that Championship champions Bournemouth will visit St James Park on Saturday 18 July. Kick off will be at 3pm.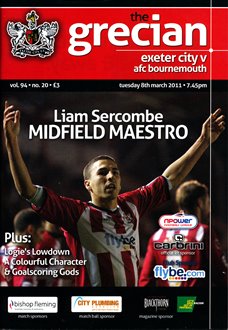 Eddie Howe's team have strengthened during the close season in the hope to retain their place in the English Premier League in the coming season.
We most recently saw Bournemouth when they visited the Park for a Capital One Cup last season. They were the opposition for Paul Tisdale's first win in the football league, back on a sunny day in August in 2008 when Ryan Harley scored the only goal of the game. Paul Tisdale's record against Bournemouth is as follows:-
Exeter City 0 AFC Bournemouth 2. League Cup. 12 August 2014
AFC Bournemouth 2 Exeter City 0. L1. Tuesday 7 February 2012
Exeter City 0 AFC Bournemouth 2. L1. 17 September 2011
Exeter City 2 AFC Bournemouth 0. L1. Tuesday 8 March 2011
AFC Bournemouth 3 Exeter City 0. L1. Tuesday 28 September 2010
Exeter City 1 AFC Bournemouth 3. L2. 3 March 2009
AFC Bournemouth 0 Exeter. L2. Saturday 23 August 2008
Exeter also have friendlies organised with East Fife, Arbroath,Weston-super-Mare, Fluminense, Torquay, and St Austell.